Alfa Laval is the only supplier of bloc-type heat exchangers with more than eight decades of experience developing heat transfer technology. All of that expertise has gone into making Compabloc the unrivalled champion of heat exchange – with unique innovations that set it apart from the rest.
C-Weld™

Superior cleaning and extended performance
Alfa Laval manufactures the Compabloc plate pack using advanced laser welding with a butt-to-butt weld joint technique known as C-Weld. This eliminates crevices or "dead zones" common in other bloc-type heat exchangers, where fouling can build up, leading to corrosion and failure.
The use of laser welding and the C-Weld joint design further ensure higher reliability than conventional weld techniques, such as lap weld joints or TIG welding, which are far more susceptible to mechanical stress and failure. The end result is increased reliability and serviceability for maximum uptime.
SmartClean™

Fast and efficient flushing of fouling material
Alfa Laval's C-Weld manufacturing method creates open channels around all the edges of plates in the Compabloc plate pack. During mechanical or chemical cleaning, as well as in the course of regular operation, any fouling that occurs will move along the heat transfer surface and flow freely out of these channels at the plate boundary. This SmartClean design makes it possible to fully clean every plate in the unit, returning the Compabloc to like-new performance after maintenance.
The SmartClean channels, impossible on bloc-type heat exchangers manufactured with edge welding, makes regular cleaning of the Compabloc both simple and quick.
XCore™

Advanced design for higher pressures
Compabloc plates feature a one-of-a-kind pattern with "half-pyramids" equally distributed across the plate in an X-shaped pattern. This adds rigidity that increases mechanical strength for superior resistance to elongation forces common in high-pressure applications. With this cleanable XCore pattern, certain Compabloc models can handle pressures up to 42 barg without compromising thermal performance.
XCore pattern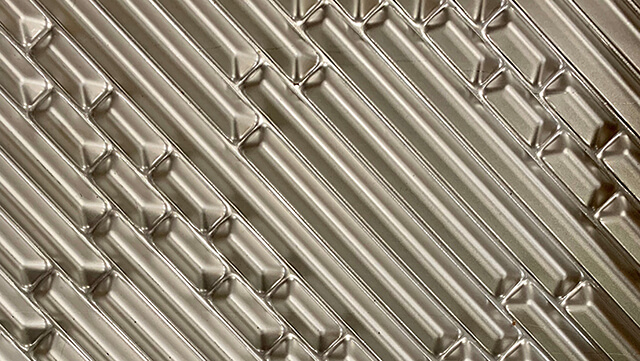 ALOnsite™

Qualified support at your facility
No matter where you are located, you are never far from a local team of trained Alfa Laval service engineers. To make sure you get the most from your Compabloc unit, we can always dispatch support to your facility – even at short notice.
The Compabloc design, with easy-to-open side panels, allows us to perform most services onsite without having to move the unit. Our experts can assist with everything from routine cleaning and inspections to more demanding issues. Many of our service centres are staffed by qualified welders who can perform critical repairs on location.