Breakthrough in European steel pickling
Alfa Laval has installed 13 steam-heated Alfa Laval DIABON® NS1graphite plate heat exchangers in the tandem cold rolling mill ofThyssenKrupp Stahl AG in Dortmund, Germany.
DATUM
2023-11-28
In 2002, the company undertook a survey of the performance of the conventional graphite blocks previously used at the rolling mill in Dortmund, compared with the graphite plate heat exchangers available from Alfa Laval.
After an initial test period of 3 months, the graphite plate heat exchangers were cleaned and could be restarted after only 8 hours. Comparable maintenance and cleaning times for the block heat exchangers, on the other hand, took at least twice as long.
Products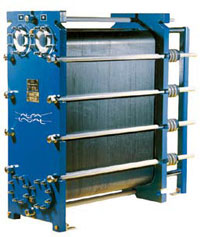 When corrosion is an issue use the DIABON® range of plate heat exchangers. Indestructible even for the toughest media.
Benefits
excellent heat transfer performance
compact construction - only limited space required
quick and easy to replace - minimum downtime
short maintenance/cleaning times - approx. 8 hours
rapid on-site repair
size (number of plates) can be adjusted on site
all parts available from stock
replacement heat exchangers deliverable within a few weeks
corrosion-resistant carrying bars
easy to clean the plates using high-pressure water jet
automatic cleaning in place (CIP) - manual cleaning of plates unnecessary
Download